Chinese Page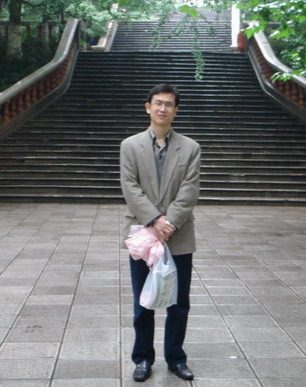 Assistant Professor of Academy of Mathematics and Systems Science, CAS
Address:
No.55, Zhongguancun East road, Beijing 100190, China
Tel:
86-10-62616670
Email:
zsh@amss.ac.cn
---
Shihua Zhang was born on May, 1980 in Shandong Province, China. Now he is Assistant Professor of the Institute of Applied Mathematics, Academy of Mathematics and Systems Science, at CAS. His interests are within Bioinformatics and Systems Biology, particularly in Biological network-related issues. He has published over 30 technical papers in the refereed journals and conference proceedings such as in Proteomics, Bioinformatics,
PLoS
Comput. Bio., Plos ONE, Computational Biology and Chemistry, BMC Structural Biology, Physical Review E, European Physical Journal B, Physica A.
See me on
Google Scholar
or
ISI
6/2008 - present, Assistant Professor.
7/2008 - 12/2010, Postdoctoral Fellow.
9/1999 - 7/2003, Bachelor of Science in Applied Mathematics,

School of Mathematics and Statistics, Yunnan University (Kunming, Yunnan, China)
Bioinformatics/Systems Biology

Modeling and algorithms for molecular networks
Integrative analysis of molecular networks with other biological data
Algorithms for protein structures comparison and assemblies determination
Modeling and algorithms for integration of multiple 'omic' data
Computational methods for epigenomics

Complex networks/Network science

Community structure in complex networks
Structure and dynamics of networks
Common community Structure in Time-varying Networks.
A joint matrix factorization framework for the integrative analysis of multi-dimensional genomic data.

Shihua Zhang

, Chun-Chi Liu, Wenyuan Li, Hui Shen, Peter Laird, Xianghong Jasmine Zhou.
In submission, 2011.

Discovering multi-dimensional regulatory modules by a sparse multi-block partial least square regression method.

Wenyuan Li*,

Shihua Zhang

*, Chun-Chi Liu, Xianghong Jasmine Zhou (*Co-first authors).
Bioinformatics, in revision, 2012.

A novel computational framework for simultaneous integration of multiple functional genomic data to identify microRNA-gene regulatory modules.

Shihua Zhang

, Qingjiao Li, Juan Liu, Xianghong Jasmine Zhou
Bioinformatics (ISMB2011), 2011, 27:i401-i409. PDF

Exploring the spatial and temporal organization of a cell's proteome

Martin Beck, Maya Topf, Zachary Frazier, Harianto Tjong, Min Xu,

Shihua Zhang

and Frank Alber.
Journal of Structural Biology, 2011, 173(3):483-496. PDF

A fast mathematical programming procedure for simultaneous fitting of assembly components into cryo-EM density maps.

Shihua Zhang

, Daven Vasishtan, Min Xu, Maya Topf, Frank Alber.
Bioinformatics (ISMB2010), 2010, 26(12):i261-i268. Faculty of 1000 Biology

Determining modular organization of protein interaction networks by maximizing modularity density.

Shihua Zhang

, Xue-Mei Ning, Chris Ding, Xiang-Sun Zhang.
BMC Systems Biology, 2010, 4:S10.

Detecting disease associated modules and prioritizing active genes based on high throughput data.
Disease-aging network reveals significant roles of aging genes in connecting genetic diseases.

Ji-Guang Wang,

Shihua Zhang

, Yong Wang, Xiang-Sun Zhang, Luonan Chen.
PLoS Computational Biology, 5(9): e1000521. doi:10.1371/journal.pcbi.1000521.

Identifying differentially expressed pathways based on a mixed integer linear programming model.

Qiu Yuqing,

Shihua Zhang

, Xiang-Sun Zhang, Luonan Chen.
IET Systems Biology, 3(6), 475-486, 2009.

Quantitative function for community detection.
Biomolecular network querying: a promising approach in systems biology.
Discovering functions and revealing mechanisms at molecular level from biological networks.

Shihua Zhang

, Guanxu Jin, Xiang-Sun Zhang and Luonan Chen.
Proteomics, 7(16), 2856-69, 2007.

Alignment of molecular networks by integer quadratic programming.

Zhenping Li*,

Shihua Zhang

*, Yong Wang, Xiang-Sun Zhang and Luonan Chen (*Co-first authors).

A hybrid graph-theoretic method for mining overlapping functional modules in large sparse protein interaction networks.
Hubs with network motifs organize modularity dynamically in the protein-protein interaction network of yeast.

Guangxu Jin,

Shihua Zhang

, Xiang-Sun Zhang, Luonan Chen
PLoS ONE 2(11): e1207, 2007. doi:10.1371/journal.pone.0001207.

Graph kernels, hierarchical clustering, network community structure: experiment and comparative analysis.

Shihua Zhang

, Xue-Mei Ning and Xiang-Sun Zhang.

Clustering complex networks and biological networks by Nonnegative Matrix Factorization with various similarity measures

Rui-Sheng Wang,

Shihua Zhang

, Yong Wang, Xiang-Sun Zhang, Luonan Chen
Neurocomputing, 72, 134-141, 2008.

Identification of overlapping community structure in complex networks using fuzzy c-means clustering
Detecting community structure in complex networks based on a measure of information discrepancy.
Identifying modules in complex networks by a graph-theoretical method and its application in protein interaction networks
Revealing divergent evolution, identifying circular permutations and detecting active-sites by protein structure comparison.
Identification of functional modules in a PPI network by clique percolation clustering.
Prediction of protein complexes based on protein interaction data and functional annotation data using kernel methods.
---
BHPB Scholarship of Graduate University of Chinese Academy of Science, 2007.
Baojie Excellent PhD student Scholarship of Chinese Academy of Science, 2007.
Baogang Scholarship, 2003.
Research on Some Important Problems in Bioinformatics (2005-2008)

Important Direction Research Grant, Chinese Academy of Sciences (CAS), Joint Investigator.

Research on Models and Algorithms of Haplotype Inference Problem in Bioinformatics (2006-2008).

National Natural Science Foundation of China (NSFC), Grant No. 60503004, Joint Inverstigator

Research on theory and algorithms of community detection in complex networks (2008-2010)

National Natural Science Foundation of China (NSFC), Grant No. 10701080, Joint Investigator
"The whole of science is nothing more than a refinement of everyday thinking." —— Albert Einstein (1879-1955)
"In science, the important thing is to modify and change one's ideas as science advances." —— Herbert Spencer (1820–1903)
"The good life is one inspired by love and guided by knowledge." —— Betrand Russell
"The difficulty lies, not in the new ideas, but in escaping the old ones, which ramify, for those brought up as most of us have been, into every corner of our minds.." ——John Maynard Keynes (1883 - 1946)
"Life is like riding a bicycle. To keep your balance, you must keep moving." —— Albert Einstein (1879-1955)
"It's not your aptitude but your attitude that determines your altitude in life." —— Jesse Jackson
"People can be divided into three classes, the few who make things happen, the many who watch things happen, and the overwhelming majority who have no idea what has happened."