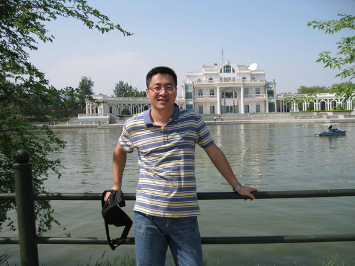 ---
Bachelor Major in Biology and Mathematics, Nankai University, 2000.09 - 2004.07
南开大学,生物科学,信息与计算科学,双学位

Master Major in Genetics, Academy of Military Medical Science, 2004.09 - 2007.07
军事医学科学院,遗传学,硕士

Ph.D Major in Operational Research, Academy of Mathematics & System Sciences, CAS, 2007.9 -2010.7
中国科学院数学与系统科学研究院,运筹学与控制论,博士

The Methodist Hospital Research Institute, Weill Cornell Medical College, 2008.06-2009.06
康奈尔大学威尔医学院卫斯理医院,访问学生

Institute of Pathogen Biology, Chinese Academy of Medical Sciences & Peking Union Medical College, 2010.08-2016.08
中国医学科学院北京协和医学院病原生物学研究所, 助理研究员、副研究员

Biodynamics Optical Imaging Center,College of Life Sciences, Peking University, 2016.09-now
北京大学生命科学学院生物动态光学成像中心,副研究员

Duanchen Sun, Xianwen Ren, Eszter Ari, Tamas Korcsmaros, Peter Csermely and Ling-Yun Wu.
Discovering cooperative biomarkers for heterogeneous complex disease diagnoses
Briefings in Bioinformatics, bbx090, https://doi.org/10.1093/bib/bbx090
Jiang Du, Liang Lu, Feng Liu, Haoxiang Su, Jie Dong, Lilian Sun, Yafang Zhu, Xianwen Ren, Fan Yang, Fei Guo, Qiyong Liu, Zhiqiang Wu and Qi Jin.
Distribution and characteristics of rodent picornaviruses in China
Scientific Reports. (2016) 6:34381.
Jiang Du, Li Yang, Xianwen Ren, Junpeng Zhang, Jie Dong, Lilian Sun, Yafang Zhu, Fan Yang, Shuyi Zhang, Zhiqiang Wu and Qi Jin.
Genetic diversity of coronaviruses in Miniopterus fuliginosus bats
Sci. China Life Sci. (2016) 59: 604.
Yongfeng Hu, Yan Zhang, Xianwen Ren, Yingmei Liu, Yan Xiao, Li Li, Fan Yang, Haoxiang Su, Feng Liu, Haiying Liu, Bin Cao and Qi Jin.
A case report demonstrating the utility of next generation sequencing in analyzing serial samples from the lung following an infection with influenza A (H7N9) virus
J Clin Virol. 2015 DOI:10.1016/j.jcv.2015.12.013
Jingxue Xin, Xianwen Ren, Luonan Chen and Yong Wang.
Identifying network biomarkers based on protein-protein interactions and expression data
BMC Medical Genomics 2015, 8(Suppl 2):S11. http://doi:10.1186/1755-8794-8-S2-S11
Jian Yang, Ting Zhang, Li Guo, Yongfeng Hu, Jinlin Li, Haoxiang Su, Yan Xiao, Xianwen Ren, Jie Dong, Lilian Sun, Yan Xiao, Li Li, Fan Yang, Jianwei Wang, Hui Yuan and Qi Jin.
Mutations of Novel Influenza A(H10N8) Virus in Chicken Eggs and MDCK Cells
Emerg Infect Dis. 2014 Sep [date cited]. http://dx.doi.org/10.3201/eid2009.140257
Yan Zhang, Haiying Liu, Linghang Wang, Fan Yang, Yongfeng Hu, Xianwen Ren, Guojun Li, Yang Yu, Shaoxia Sun, Yufen Li, Xinchun Chen, Xingwang Li and Qi Jin.
Comparative Study of the Cytokine/Chemokine Response in Children with Differing Disease Severity in Enterovirus 71-Induced Hand, Foot, and Mouth Disease
PLoS One, 8(6): e67430, 2013; doi:10.1371/journal.pone.0067430.
Jianhua Zheng, Xianwen Ren, Candong Wei, Jian Yang, Yongfeng Hu, Liguo Liu, Xingye Xu, Jin Wang and Qi Jin.
Analysis of the secretome and identification of novel constituents from culture filtrate of bacillus Calmette-Guerin using high-resolution mass spectrometry
Molecular & Cellular Proteomics, 24, 2013.
Xia Wang, Junjie Yue, Xianwen Ren, Yuelan Wang, Mingfeng Tan, Beiping Li and Long Liang.
Modularity analysis based on predicted protein-protein interactions provides new insights into pathogenicity and cellular process of Escherichia coli O157:H7
Theoretical Biology and Medical Modelling 8:47, 2011.
Zhong-Yuan Zhang, Tao Li, Chris Ding, Xianwen Ren, and Xiang-Sun Zhang.
Binary matrix factorization for analyzing gene expression data
Data Mining and Knowledge Discovery, 20(1), 28-52, 2010.
Chung-Che Chang, Xiaobo Zhou, Jesalyn J Taylor, Wan-Ting Huang, Xianwen Ren, Federico Monzon, Yongdong Feng, Pulivarthi H Rao, Xin-Yan Lu, Facchetti Fabio, Susan Hilsenbeck, Chad J Creighton, Elaine S Jaffe and Ching-Ching Lau.
Genomic profiling of plasmablastic lymphoma using array comparative genomic hybridization (aCGH): revealing significant overlapping genomic lesions with diffuse large B-cell lymphoma
Journal of Hematology & Oncology, 2:47, 2009.
---
---
Translational bioinformatics
Mathematical modeling
Algorithm design
Disease diagnosis and prognosis