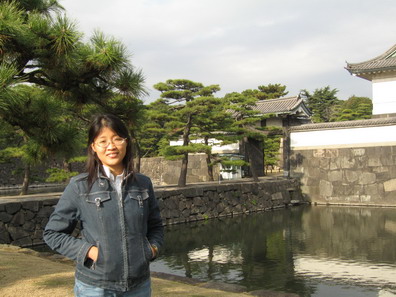 Department of Physics, Pennsylvania State University
Address:
121 Davey Lab., University Park, PA 16802, USA
Tel:
1-814-865-4972
Email:
rwang@phys.psu.edu
---
09/1999 - 07/2002, M.S. in Applied Mathematics, College of Mathematics & Computer Sciences, Hebei University.
09/1995 - 07/1999, B.S. in Applied Mathematics, Department of Mathematics, Hebei University.
Systems biology/Bioinformatics
Biological network inference, modeling and analysis
Microarray gene expression data analysis
Tag SNP/Haplotype inference and reconstruction
Structure and dynamics of complex networks
Graph/Optimization theory and application
R. Albert, R.S. Wang. Discrete dynamic modeling of cellular signaling networks, Methods in Enzymology, 467, in press
Z. Li, R.S. Wang, X.S. Zhang, L. Chen. Detecting drug targets with minimum side effects in metabolic networks. IET Systems Biology, in press
X.S. Zhang, R.S. Wang, Y. Wang, J. Wang, Q. Qiu, L. Wang, L. Chen. Modularity optimization in community detection of complex networks. Europhysics Letters, 87, 38002, 2009
X.M. Zhao, R.S. Wang, L. Chen, K. Aihara. Automatic modeling of signaling pathways by network flow model. Journal of Bioinformatics and Computational Biology, 7(2),309-322, 2009
R.S. Wang, G. Jin, X.S. Zhang, L. Chen. Modeling post-transcriptional regulation activity of small non-coding RNAs in Escherichia coli. BMC Bioinformatics, 10(Suppl4):S6, 2009
Y. Wang, W. Wan, R.S. Wang, E. Feng. Model, properties and imputation method of missing SNP genotype data utilizing mutual information. Journal of Computational and Applied Mathematics, 229, 168-174, 2009
L.Y. Wu, Z. Li, R.S. Wang, X.S. Zhang, L. Chen. Self-organizing map approaches for the haplotype assembly problem. Mathematics and Computers in Simulation, 79(10), 3026-3037, 2009
R.S. Wang, S. Zhang, Y. Wang, X.S. Zhang, L. Chen. Clustering complex networks and biological networks by Nonnegative Matrix Factorization with various similarity measures. Neurocomputing, 72, 134-141, 2008. PDF
R.S. Wang, M.H. Ha. On the properties of sequences of fuzzy-valued Choquet integrable function. Fuzzy Optimization and Decision Making, 7(4), 417-431, 2008.
X.M. Zhao, R.S. Wang, L. Chen, K. Aihara. Uncovering signal transduction networks from high-throughput data by integer linear programming. Nucleic Acids Research, 36, e48, 2008 PDF
J. Wang, Y. Qiu, R.S. Wang, X.S. Zhang. Remarks on network community properties. Journal of System Science and Complexity, 21(4), 629-636, 2008
Z. Li, S. Zhang, R.S. Wang, X.S. Zhang and L. Chen. Quantitative function for community detection. Physical Review E, 77, 036109, 2008 PDF
R.S. Wang, Y. Wang, X.S. Zhang, L. Chen. Detecting community structure in complex networks by optimal rearrangement clustering. Lecture Notes in Artificial Intelligence (PAKDD 2007 workshop), 4819,119-130, 2007 PDF
R.S. Wang, Y. Wang, L.Y. Wu, X.S. Zhang, L. Chen. Analysis on multi-domain cooperation for predicting protein-protein interactions. BMC Bioinformatics, 8:391, 2007 PDF
R.S. Wang, X.S. Zhang, L. Chen. Inferring transcriptional interactions and regulator activities from experimental data. Molecules and Cells, 24(3), 307-315, 2007 PDF
R.S. Wang, Y. Wang, X.S. Zhang, L. Chen. Inferring transcriptional regulatory networks from high-throughput data. Bioinformatics, 23, 3056-3064, 2007 PDF
S. Zhang, R.S. Wang, X.S. Zhang. Uncovering fuzzy community structure in complex networks. Physical Review E, 76, 046103, 2007 PDF
R.S. Wang, S. Zhang, X.S. Zhang, L. Chen. Identifying modules in complex networks by a graph-theoretical method and its application in protein interaction networks. Lecture Notes in Artificial Intelligence (ICIC2007), 4682, 1090-1101, 2007 PDF
S. Zhang, R.S. Wang, X.S. Zhang. Identification of overlapping community structure in complex networks using fuzzy c-means clustering. Physica A, 374, 483–490, 2007 PDF
R.S. Wang, L.Y. Wu, X.S. Zhang, L. Chen. A Markov chain model for haplotype assembly by SNP fragments. Genome Informatics, 17(2), 162-171, 2006 PDF
Y. Wang, E. Feng, R.S. Wang, D. Zhang. Haplotype assembly model with genotype information and local exhaustive search algorithm. Computational Biology and Chemistry, 31(4): 288-293, 2007 PDF
X.S. Zhang, R.S. Wang, L.Y. Wu, W. Zhang. Minimum conflict individual haplotyping from SNP fragments and related genotype. Evolutionary Bioinformatics, 2, 271-280, 2006 PDF
X.S. Zhang, R.S. Wang, L.Y. Wu, L. Chen. Models and algorithms for the haplotyping problem. Current Bioinformatics, 1(1), 105-114, 2006 PDF
R.S. Wang, L.Y. Wu, Z. Li, X.S. Zhang. Haplotype reconstruction from SNP fragments by minimum error correction. Bioinformatics, 21(10), pp: 2456-2462, 2005 PDF
R.S. Wang, X.S. Zhang, L. Sheng. Haplotype inference by pure parsimony via genetic algorithm. Lecture Notes in Operations Research (ISORA2005), 5, 308-318, 2005 PDF
Y.Y. Zhao, L.Y. Wu, J.H. Zhang, R.S. Wang, X.S. Zhang. Haplotype assembly from weighted SNP fragments. Computational Biology and Chemistry, 29(4), 281-287, 2005 PDF
R.S. Wang, L.M. Wang, M.H. Ha. Choquet integrals on L-fuzzy sets. The Journal of Fuzzy Mathematics, 14(1), 151-164, 2006
R.S. Wang, M.H. Ha. On Choquet integrals of fuzzy-valued functions. The Journal of Fuzzy Mathematics, 14(1), 89-102, 2006
M.H. Ha, R.S. Wang, C.X. Wu. Outer measures and inner measures on fuzzy measure space. The Journal of Fuzzy Mathematics, (10)1, 127-132, 2002
Several Fundamental Problems in Complex Networks (2007)
Research Foundation of Renmin University of China, Grant No. 06XNB054, Principal Investigator
Research on theory and algorithms of community detection in complex networks (2008-2010)
National Natural Science Foundation of China (NSFC), Grant No. 10701080, Principal Investigator
All models are wrong, but some are useful
George E.P. Box
Nothing in biology makes sense except in the light of evolution
T. Dobzhansky