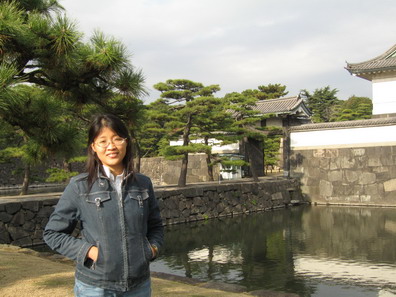 School of Information, Renmin University of China
Address:
No.59, Zhongguancun Street, Beijing 100872, China
Tel:
86-10-62571860
Email:
wrs@ruc.edu.cn
[
my CV
]
---
Rui-Sheng Wang was born on 7th, Dec., 1978 in Xingtai, Hebei Province, China. She received her B.S. and M.S. Degrees from College of Mathematics & Computer Sciences, Hebei University, and received her Ph.D Degree from Academy of Mathematics & Systems Science, Chinese Academy of Sciences. Her research interests, previously within the areas of fuzzy information processing and nonadditive measure theory, have extended to Combinatorial Optimization and Bioinformatics.
Bioinformatics

Functional modules in molecular networks
Gene/transcription regulatory networks
Protein interaction networks, signaling pathways
Tag SNP / Haplotype inference and reconstruction

Complex networks

Community structure in complex networks
Clustering complex networks and biological networks by Nonnegative Matrix Factorization with various similarity measures
Rui-Sheng Wang, Shihua Zhang, Yong Wang, Xiang-Sun Zhang, Luonan Chen
Neurocomputing, accept
Rui-Sheng Wang, Yong Wang, Xiang-Sun Zhang, Luonan Chen
PAKDD 2007 workshop on Data Mining in Biomedical Applications, Lecture Notes in Artificial Intelligence, 4819,119-130, 2007

Rui-Sheng Wang, Yong Wang, Ling-Yun Wu, Xiang-Sun Zhang, Luonan Chen
BMC Bioinformatics, 8:391, 2007

Rui-Sheng Wang, Xiang-Sun Zhang, Luonan Chen
Molecules and Cells, 24(3), 307-315, 2007

Rui-Sheng Wang, Yong Wang, Xiang-Sun Zhang, Luonan Chen
Bioinformatics, 23, 3056-3064, 2007

Shihua Zhang, Rui-Sheng Wang, Xiang-Sun Zhang
Physical Review E, 76, 046103, 2007

Identifying modules in complex networks by a graph-theoretical method and its application in protein interaction networks

Rui-Sheng Wang, Shihua Zhang, Xiang-Sun Zhang, Luonan Chen
ICIC2007, Lecture Notes in Artificial Intelligence, 4682, 1090-1101, 2007.

Identification of overlapping community structure in complex networks using fuzzy c-means clustering

Shihua Zhang, Rui-Sheng Wang, and Xiang-Sun Zhang
Physica A, 2007, 374, 483–490

Rui-Sheng Wang, Ling-Yun Wu, Xiang-Sun Zhang and Luonan Chen
Genome Informatics, 2006, 17(2), 162-171

Xiang-Sun Zhang, Rui-Sheng Wang, Ling-Yun Wu, Shi-Hua Zhang and Luonan Chen.
WC2006, IFMBE Proceedings, Vol. 14, pp. 181-184, Springer, 2006

Ying Wang, Enmin Feng, Rui-Sheng Wang, Dan Zhang
Computational Biology and Chemistry, 2007, 31(4): 288-293

Xiang-Sun Zhang, Rui-Sheng Wang, Ling-Yun Wu, and Wei Zhang
Evolutionary Bioinformatics, 2006, 2, 271-280

Xiang-Sun Zhang, Rui-Sheng Wang, Ling-Yun Wu, and Luonan Chen
Current Bioinformatics, 2006,1(1), 105-114

Rui-Sheng Wang, Ling-Yun Wu, Zhen-Ping Li, and Xiang-Sun Zhang
Bioinformatics, 2005, 21(10), pp: 2456-2462

Rui-Sheng Wang, Xiang-Sun Zhang, and Li Sheng
ISORA2005, Lecture Notes in Operations Research, 5, pp. 308-318, 2005

Yu-Ying Zhao, Ling-Yun Wu, Ji-Hong Zhang, Rui-Sheng Wang, and Xiang-Sun Zhang
Computational Biology and Chemistry, 2005, 29(4), 281-287

Rui-Sheng Wang, and Ming-Hu Ha
Advances in Soft Computing, 40, 149-158, 2007

Choquet integrals on L-fuzzy sets

Rui-Sheng Wang, Li-Min Wang, and Ming-Hu Ha
The Journal of Fuzzy Mathematics, 2006, 14(1), 151-164

On Choquet integrals of fuzzy-valued functions

Rui-Sheng Wang, and Ming-Hu Ha
The Journal of Fuzzy Mathematics, 2006, 14(1), 89-102

Outer measures and inner measures on fuzzy measure space

Ming-Hu Ha, Rui-Sheng Wang, and Cong-Xin Wu
The Journal of Fuzzy Mathematics, 2002(10) 1, 127-132
---
Research on Several Difficult Bioinformatics Problems by Using OR Methodologies (2005-2007)

National Natural Science Foundation of China (NSFC), Grant No. 10471141, Joint Inverstigator

Research on Models and Algorithms of Haplotype Inference Problem in Bioinformatics (2006-2008).

National Natural Science Foundation of China (NSFC), Grant No. 60503004, Joint Inverstigator

Several Fundamental Problems in Complex Networks (2007)

Research Foundation of Renmin University of China, Grant No. 06XNB054, Principal Investigator

Research on theory and algorithms of community detection in complex networks (2008-2010)

National Natural Science Foundation of China (NSFC), Grant No. 10701080, Principal Investigator
All models are wrong, but some are useful
George E.P. Box
Nothing in biology makes sense except in the light of evolution
T. Dobzhansky