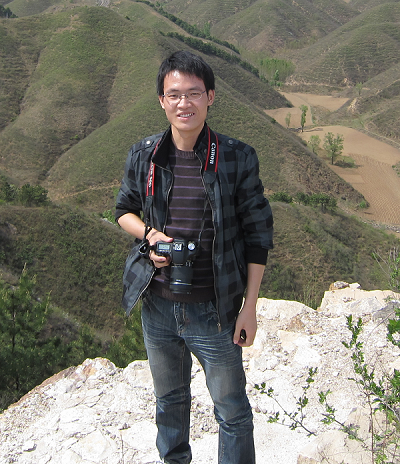 Postdoc Research Fellow
School of Biomedical Informatics
University of Texas Health Science Center at Houston
Address: 7000 Fannin St Suit 615
Houston, TX 77030, USA
Email :
junfei.zhao(at)uth.tmc.edu
Blog :
www.zhaojunfei.com
---
---
Bachelor Major in Information and Computing Science, Changsha University of science & technology, 2005.09 - 2009.06
---
Bioinformatics; System Biology.
---
Pora Kim, Feixiong Cheng, Junfei Zhao (co-first author), and Zhongming Zhao.
ccmGDB: a database for cancer cell metabolism genes.
Nucleic acids research 44.D1 (2016): D959-D968.
Zhao J, Cheng F, Wang Y, Arteaga CL, Zhao Z.
Systematic prioritization of druggable mutations in ~5,000 genomes across 16 cancer types using a structural genomics-based approach.
Molecular & Cellular Proteomics (2015): mcp-M115.
Cheng F, Zhao J, Zhao Z.
Advances in computational approaches for prioritizing driver mutations and significantly mutated genes in cancer genomes.
Brief Bioinform (2015) doi: 10.1093/bib/bbv068.
Feixiong Cheng, Chuang Liu, Chen-Ching Lin, Junfei Zhao, Peilin Jia, Wen-Hsiung Li, Zhongming Zhao.
A Gene Gravity Model for the Evolution of Cancer Genomes: A Study of 3,000 Cancer Genomes across 9 Cancer Types.
PLOS Computational Biology (2015). DOI: 10.1371/journal.pcbi.1004497.
Zhao M, Kim P, Mitra R, Zhao J, Zhao Z.
TSGene 2.0: an updated literature-based knowledgebase for tumor suppressor genes.
Nucleic acids research (2015): gkv1268.
Junfei Zhao,Xiang-Sun Zhang, Shihua Zhang.
Predicting cooperative drug effects by the quantitative cellular profiling of response to individual drugs.
CPT Pharmacometrics Syst. Pharmacol (2014) 3, e1; doi:10.1038/psp.2013.79.
James C Costello et al. (Junfei Zhao is listed as one co-author).
The challenge of drug sensitivity prediction: an assessment of methods through collaborative competition.
Nature Biotechnology (2014), doi: 10.1038/nbt.2877..
Mukesh Bansal et al. (Junfei Zhao is listed as one co-author).
A community computational challenge to predict the activity of pairs of compounds.
Nature biotechnology 32.12 (2014): 1213-1222.
Junfei Zhao, Shihua Zhang, Ling-Yun Wu, and Xiang-Sun Zhang.
Efficient methods for identifying mutated driver pathways in cancer.
Bioinformatics, doi: 10.1093/bioinformatics/bts564, 2012.
Shihua Zhang, Junfei Zhao, Xiang-Sun Zhang.
Common community structure in time-varying networks.
Physical Review E, 85, 056110, 2012.
Chen Chen, Junfei Zhao, Qiang Huang, Rui-Sheng Wang, Xiang-Sun Zhang.
Inferring domain-domain interactions from protein-protein interactions in the complex network conformation.
BMC Systems Biology (2012), 6(Suppl 1):S7.
Junfei Zhao, Jiguang Wang, Xiang-Sun Zhang.
A SVC-based Method to Detect Multi-scalar Noisy Communities in Complex Networks.
ISORA 2011, pp. 133-143.
Junhua Zhang, Shihua Zhang, Yong Wang, Junfei Zhao, Xiang-Sun Zhang.
Identifying Mutated Core Modules in Glioblastoma by Integrative Network Analysis.
2012 IEEE International Conference on Systems Biology (ISB), pp. 304-309.
---