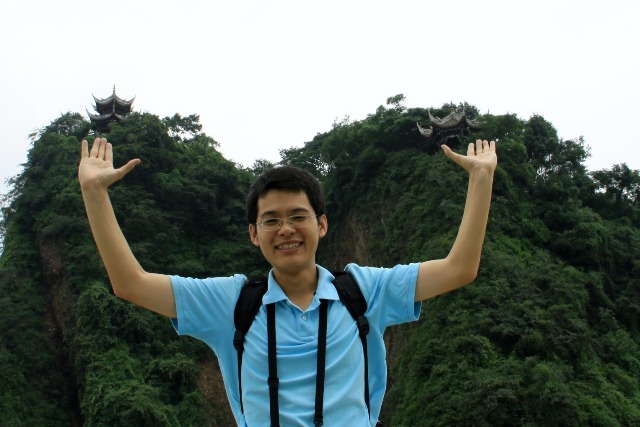 Visiting Scholar
University of Missouri-Columbia
1705 Hinkson Ave. Apt. 3
Columbia, MO 65201
Jiguang Wang got his Ph.D. degree in Operations Research and Control Theory from AMSS of CAS in July 2011, and now is visiting Dong Xu's lab in University of Missouri-Columbia.
---
Ph.D., Academy of Mathematics & System Sciences, CAS, 2006.9 ~ 2011.7
B.A., Beijing Institute of Technology, 2002.9 ~ 2006.7
---
Network ontology analysis
The applications of bio-network model in complex disease
Communities in complex networks
Computational biology/systems biology
Systematical methods to uncover the mechanisms of aging process and complex diseases
2009 ∼ 2010 The research of dynamic model and algorithms for network biomarkers in type 2 diabetes, Principal Investigator, Ph. D research project supported by Chinese Academy of Sciences.
---
The Presidential Outstanding Research Scholarship from AMSS, CAS, 2009.
"Three goods" Student in AMSS, 2007
Beijing Outstanding Graduates, 2006
Honorable Prize in Mathematical Contest in Modeling, 2005
Second class Prize in CUMCM, 2005
Second class Prize in CUMCM, 2004
First class Prize in Chinese Mathematical Olympiad in Senior, 2002
Jiguang Wang, Qiang Huang, Zhi-Ping Liu, Yong Wang, Ling-Yun Wu, Luonan Chen, Xiang-Sun Zhang, NOA: a novel Network Ontology Analysis method.
Nucleic Acids Research, doi: 10.1093/nar/gkr251, 2011. ::NOA Webserver:: :::This paper has been evaluated by F1000:::


Jiguang Wang, Shihua Zhang, Yong Wang, Luonan Chen, and Xiang-Sun Zhang. Disease-aging network reveals significant roles of aging genes in connecting genetic diseases.
PLoS Comput Biol, 5(9): e1000521. doi:10.1371/journal.pcbi.1000521, 2009. ::PDF download::


Xiang-Sun Zhang, Rui-Sheng Wang, Yong Wang, Jiguang Wang, Yu-Qing Qiu, Lin Wang, and Luonan Chen. Modularity optimization in community detection of complex networks.
Europhysics Letters, 87: 38002, 2009. ::PDF download:: :::This paper is selected as EPL Best of 2009 collection:::


Jiguang Wang, Yuqing Qiu, Rui-Sheng Wang, Xiang-Sun Zhang. Remarks on network community properties.
Jrl Syst Sci & Complexity, 21: 637-644, 2008. ::PDF download::
:::All publications:::
Titile: The Research on Molecular Network Models of Complex Disease
---
Sports, such as basketball, ping-pang, and so on
Ten Simple Rules Collection
::NOA Webserver::
Raul Rabadan's Lab in Columbia University
Dong Xu's Digital Biology Laboratory in University of Missouri-Columbia
Luonan Chen Lab in SIBS
Trey Ideker Lab in UCSD
Gerstein Group -- Yale Bioinformatics
The International Society for Computational Biology (ISCB)
Bioinformatics Jobs
---
---