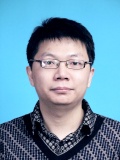 中央财经大学 讲师
---
Research Areas and Interests
Management and Decision Sciences
Complex networks
Data mining
Operational reasearch
Publications and Book
Hui-Jia Li Measuring robustness of community structure in complex networks, Europhysics Letters, 2015
Hui-Jia Li Social significance of community structure: Statistical view. Physical Review E, 2015
Hui-Jia Li A novel dynamics combination model reveals the hidden information of community structure. International Journal of Modern Physics C, 2015.
Hui-Jia Li Integrating attributes of nodes solves the community structure partition effectively, Modern Physics Letters B, 2014
Hui-Jia Li Analysis of stability of community structure across multiple hierarchical levels. Europhysics Letters, 2013.
Hui-Jia Li Community structure detection based on potts model and spectral characterization. Europhysics Letters, 2012.
Hui-Jia Li Potts model based on a Markov process computation solves the community structure problem effectively. Physical Review E, 2012.
Hui-Jia Li Identifying overlapping communities in social networks using multi-scale local information expansion. The European Physical Journal B, 2012.