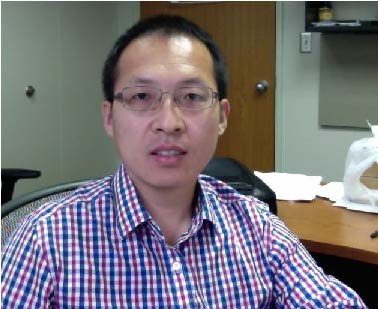 Chinese Name: 金光旭
---
---
Primary Appointment
Assistant Professor, Wake Forest School of Medicine, Department of Radiology, Wake Forest Baptist Medical Center
---
---
MRI 2nd FL
Medical Center Blvd
Winston-Salem, NC 27157
Office: +1 (336)716-6977
Cell: +1 (281)627-1455
---
---
---
---
American Association Cancer Research
Member, 2011.2 - present
Intelligent Systems for Molecular Biology
Member, 2012.4 - present
American Chemical Society
Member, 2012.2 - present
---
---
P2GWAS

Personalized medicine


Drug repositioning

Computational modeling
Database construction
Software development


Targeted therapy resistance

Gefitinib
Lapatinib


Cell-Cell interaction modeling

Lung Cancer


Next generation sequencing (Data analysis)

Pipelines for RNA-Seq data analysis
Pipelines for mutation detection

Sorry, a file named Guangxu Jin_20140609.pdf.pdf does not exist.
---
---
Jin G

, Wong ST
Proteomics Based Theranostics
Cancer Theranostics, Elsevier, 2014.

Jin G

, Encyclopedia of Systems Biology, Springer, New York, 2013
Chapters: Single-Input Module (1954-1954), Dense Overlapping Regulons (560-560), Feed Forward Loop (737-738), Network Topology Motif (1523-1524), Network Motifs of Gene Regulatory Networks (1521-1523)


Jin G

, Zhou X, Wang H, Wong ST
The challenges in blood proteomic biomarker discovery.
Applied Bioinformatics and Biostatistics in Cancer Research, Springer-Verlag New York Chapter 12, 2010.
Wong ST, Zhao H,

Jin G

(2012)
Drug Repositioning Methods For Targeting Breast Tumor Initiating Cells.
US Patent 20,120,296,090
Last updated: 06/16/14