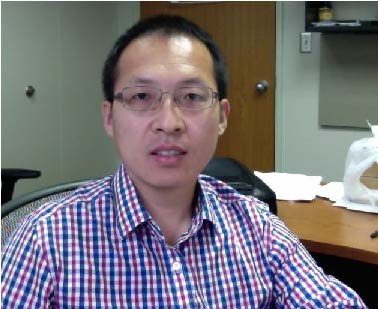 Chinese Name: 金光旭
---
---
Primary Appointment
Assistant Professor, Wake Forest School of Medicine, Department of Radiology, Wake Forest Baptist Medical Center
---
---
MRI 2nd FL
Medical Center Blvd
Winston-Salem, NC 27157
Office: +1 (336)716-6977
Cell: +1 (281)627-1455
---
---
---
---
American Association Cancer Research
Member, 2011.2 - present
Intelligent Systems for Molecular Biology
Member, 2012.4 - present
American Chemical Society
Member, 2012.2 - present
---
---
P2GWAS

Personalized medicine


Drug repositioning

Computational modeling
Database construction
Software development


Targeted therapy resistance

Gefitinib
Lapatinib


Cell-Cell interaction modeling

Lung Cancer


Next generation sequencing (Data analysis)

Pipelines for RNA-Seq data analysis
Pipelines for mutation detection

---
---
2. Choi DS, Blanco E, Kim YS, Rodriguez AA, Zhao H, Huang TH, Chen CL,

Jin G

, Landis MD, Burey LA, Qian W, Granados SM, Dave B, Wong HH, Ferrari M, Wong ST, Chang JC. (2014)
Chloroquine eliminates cancer stem cells through deregulation of Jak2 and DNMT1.
Stem cells. doi: 10.1002/stem.1746.

Guangxu Jin

and Stephen T.C. Wong (2014) Invited review
Enhanced Petri Net: Elucidating the Pathway-Level Mechanism of Targeted-Therapy Drugs
Information Technology. 56(2): 67-75.
Timothy Liu, Ding Ren, Xiaoping Zhu, Zheng Yin,

Guangxu Jin

, Zhen Zhao, Daniel Robinson, Xuping Li, Kelvin Wong, Kemi Cui, Hong Zhao, Stephen TC Wong (2013)
Transcriptional signaling pathways inversely regulated in Alzheimer's disease and glioblastoma multiform
Scientific Report 3: 3467.

Guangxu Jin

and Stephen T.C. Wong (2013) Invited review
Toward better drug repositioning: Prioritizing and integrating existing methods into efficient pipelines
Drug Discovery Today. 19(5); 637-644.
Changhe Fu*,

Guangxu Jin*

, Junfeng Gao, Rui Zhu, Efren Ballesteros villagrana, Stephen T.C. Wong (2013)
DrugMap Central (DMC), an on-line query and visualization tool to facilitate drug repositioning studies.
Bioinformatics. 15;29(14):1834-6. DOI:10.1093/bioinformatics/btt279 *Co-first author.
Hong Zhao*,

Guangxu Jin*

, Kemi Cui , Ding Ren , Timothy Liu , Peikai Chen , Solomon Wong , Fuhai Li , Yubo Fan , Angel A. Rodriguez , Jenny C. Chang, Stephen T.C. Wong (2013)
Novel modeling of cancer cell signaling pathways enables systematic drug repositioning for distinct breast cancer metastases.
Cancer Research, DOI: 10.1158/0008-5472.CAN-12-4617. *Co-first author. Cover paper and cover image.
Fuhai Li, Zheng Yin,

Guangxu Jin

, Hong Zhao, Stephen Wong (2013)
Bioimage Informatics for Systems Pharmacology.
PLoS Comput Biol 9, e1003043.
Wang, L., Zhao, H., Cui, K., Yao, L., Ren, M., Hao, A., Smollen, P., Nie, F.,

Jin, G.

, Liu, Q. et al. (2012)
Identification of novel small-molecule inhibitors of glioblastoma cell growth and invasion by high-throughput screening.
Bioscience trends, 6, 192-200.
Wang, L., Liu, Q., Zhao, H., Cui, K., Yao, L., Nie, F.,

Jin, G.

, Hao, A. and Wong, S.T. (2013)
Differential effects of low- and high-dose GW2974, a dual epidermal growth factor receptor and HER2 kinase inhibitor, on glioblastoma multiforme invasion.
Journal of neuroscience research, 91, 128-137.
Fu, C., Deng, S., Jing, L., and

Jin, G.

(2012)
Idenfication of Oncogenic Genes for Colon Adenocarcinoma from Genomics Data.
IEEE systems biology, 6:263-266.

Guangxu Jin

, Changhe Fu, Hong Zhao, Kemi Cui, Jenny Chang, Stephen T.C. Wong
A novel method of transcriptional response analysis to facilitate drug repositioning for cancer therapy.
Cancer Res, 72:33-44, 2012.

Guangxu Jin

, Hong Zhao, Xiaobo Zhou, Stephen T.C. Wong
An enhanced Petri-net model to predict synergistic effects of pairwise drug combinations from gene microarray data.
Bioinformatics, 27(13):i310-6, 2011.
Zhao H, Cui K, Nie F, Wang L, Brandl MB,

Jin G

, Li F, Mao Y, Xue Z, Rodriguez A, et al.,
The effect of mTOR inhibition alone or combined with MEK inhibitors on brain metastasis: an in vivo analysis in triple-negative breast cancer models.
Breast Cancer Res Treat. 2011

Jin G

, Cui K, Zhou X, Wong ST
Unraveling the signal-transduction networks in cancer metastasis.
IEEE Signal Proc Mag 26: 129-132, 2009.

Jin G

, Zhou X, Cui K, Zhang XS, Chen L, Wong ST
A cross-platform method for identifying candidate network biomarkers for prostate cancer.
IET Syst Biol 3(6), 505-512, 2009.
Wang RS,

Jin G

, Zhang XS, Chen L
Modeling post-transcriptional regulation activity of small non-coding RNAs in Escherichia coli.
BMC Bioinformatics 10 Suppl 4: S6, 2009.

Jin G

, Zhou X, Wang H, Zhao H, Cui K, Zhang XS, Chen L, Hazen SL, Li K, Wong ST
The Knowledge-Integrated network biomarkers discovery for major adverse cardiac events.
J Proteome Res 7(9): 4013-4021, 2008.

Jin G

, Zhang S, Zhang XS, Chen L
Hubs with network motifs organize modularity dynamically in the protein-protein interaction network of yeast.
PLoS ONE 2(11): e1207, 2007.
Zhang S,

Jin G

, Zhang XS, Chen L (2007)
Discovering functions and revealing mechanisms at molecular level from biological networks.
Proteomics 7(16): 2856-2869, 2007.
Jin G

, Wong ST
Proteomics Based Theranostics
Cancer Theranostics, Elsevier, 2013, In Press.

Jin G

, Encyclopedia of Systems Biology, Springer, New York, 2013
Chapters: Single-Input Module (1954-1954), Dense Overlapping Regulons (560-560), Feed Forward Loop (737-738), Network Topology Motif (1523-1524), Network Motifs of Gene Regulatory Networks (1521-1523)


Jin G

, Zhou X, Wang H, Wong ST
The challenges in blood proteomic biomarker discovery.
Applied Bioinformatics and Biostatistics in Cancer Research, Springer-Verlag New York Chapter 12, 2010.
Wong ST, Zhao H,

Jin G

(2012)
Drug Repositioning Methods For Targeting Breast Tumor Initiating Cells.
US Patent 20,120,296,090
Last updated: 06/16/14