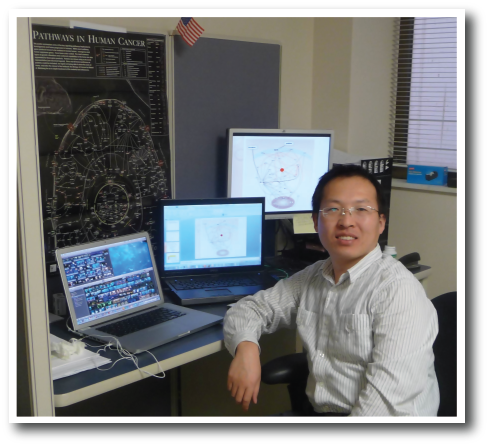 ---
---
Postdoc, Department of Systems Medicine and Bioengineering, The Methodist Hospital Research Institute, Weill Cornell Medical College, Houston, TX
---
---
The Methodist Hospital Research Institute
6565 Fannin ST
West Pavilion 307
Houston, TX 77030
Office: +1 (713)-441-7268
Cell: +1 (832)-738-2167
---
---
---
---
American Association Cancer Research
Associate Member, 2011-present
---
---
Off-target Drug repositioning
ER- and Her2- targeted therapy resistance
Pathway-driven drug combination
Next generation sequencing (de-novo assembly and RNA-seq as well as whole-genome sequencing)
---
---
Guangxu Jin

, Changhe Fu, Hong Zhao, Kemi Cui, Jenny Chang, Stephen T.C. Wong
A novel method of transcriptional response analysis to facilitate drug repositioning for cancer therapy.
Cancer Res, doi:10.1158/0008-5472.CAN-11-2333, 2011.
Guangxu Jin

, Hong Zhao, Xiaobo Zhou, Stephen T.C. Wong
An enhanced Petri-net model to predict synergistic effects of pairwise drug combinations from gene microarray data.
Bioinformatics, 27(13):i310-6, 2011.
Zhao, H., Cui, K., Nie, F., Wang, L., Brandl, M. B.,

Jin, G.

, Li, F., Mao, Y., Xue, Z., Rodriguez, A., et al.,
The effect of mTOR inhibition alone or combined with MEK inhibitors on brain metastasis: an in vivo analysis in triple-negative breast cancer models.
Breast Cancer Res Treat. 2011
Jin G

, Cui K, Zhou X, Wong ST
Unraveling the signal-transduction networks in cancer metastasis.
IEEE Signal Proc Mag 26: 129-132, 2009.
Jin G

, Zhou X, Cui K, Zhang XS, Chen L, Wong ST
A cross-platform method for identifying candidate network biomarkers for prostate cancer.
IET Syst Biol 3(6), 505-512, 2009.
Wang RS,

Jin G

, Zhang XS, Chen L
Modeling post-transcriptional regulation activity of small non-coding RNAs in Escherichia coli.
BMC Bioinformatics 10 Suppl 4: S6, 2009.
Jin G

, Zhou X, Wang H, Zhao H, Cui K, Zhang XS, Chen L, Hazen SL, Li K, Wong ST
The Knowledge-Integrated network biomarkers discovery for major adverse cardiac events.
J Proteome Res 7(9): 4013-4021, 2008.
Jin G

, Zhang S, Zhang XS, Chen L
Hubs with network motifs organize modularity dynamically in the protein-protein interaction network of yeast.
PLoS ONE 2(11): e1207, 2007.
Zhang S,

Jin G

, Zhang XS, Chen L (2007)
Discovering functions and revealing mechanisms at molecular level from biological networks.
Proteomics 7(16): 2856-2869, 2007.
Jin G

, Zhou X, Wang H, Wong ST
The challenges in blood proteomic biomarker discovery.
Applied Bioinformatics and Biostatistics in Cancer Research, Springer-Verlag New York Chapter 12, 2010.
http://r2d2drug.org/
Last updated: 11/28/11